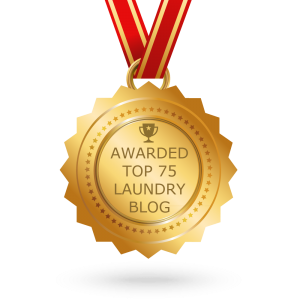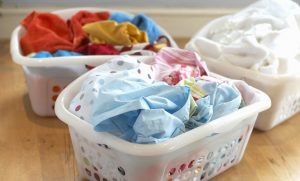 Interestingly enough, you'll find several different opinions when it comes to sorting your laundry.  Our method is certainly not the only way.  If you have a method that works for you, then by all means keep doing it!  But if you're getting worn out, torn or discolored clothes, then this article is for you.
What's the reason to sort clothes in the first place? Do you really need to sort clothes at all?  In our opinion, you do.  Sorting clothes allows you to use different wash cycles (delicate, normal, permanent press) and also allows for washing in different temperatures.
Most importantly, sorting clothes decreases the chances that a garment is going to bleed onto another when you control the cycle type and water temperature.
Sorting Clothes by Color
There are several distinct piles in which to sort clothes: whites, darks, lights, jeans, and delicates.
∙Whites:  T-shirts, underwear, socks and other similar items fall into this category.  This pile is for white sturdy cottons that can withstand normal agitation in the washer on a warm or hot wash cycle.
∙Darks: Grays, blacks, navies, reds, dark purples and similar colors are sorted into this load.
∙Lights: More pastel-type colors such as pinks, lavenders, light blues, lights greens and yellows are placed in this pile of laundry.
∙Jeans: All items with denim material are washed together in this load.
∙Delicates: This category includes several types of clothing – lingerie, washable silks, and any clothing you'd like to keep from the harsh agitation of the washer.
Sorting Clothes by Fabric Weight
Please note that color is not the only consideration when sorting clothes. The weight of the garment should be considered as well.
For example, if you have several pairs of heavy cotton pants, or denim, then you don't want to wash those with thin t-shirts.  Washing light- weight clothes with heavy material can possibly tear or rip those garments.
If they are placed in the dryer together, they obviously won't dry at the same rate since one fabric is much heavier than the other.
It's best just to separate these types of garments from the start and wash them in two separate loads.