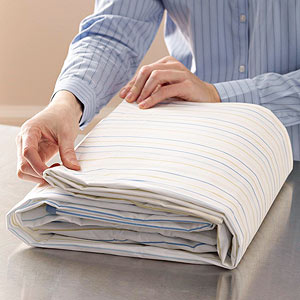 If you haven't noticed, bed sheets are expensive.  If you buy quality, you'd like for them to hold up – not fray, get those pesky little fiber balls that form, also known as "pilling", or simply to prevent them from fading. This blog may seem pointless to some, but learning how to care for your bed sheets will help you keep them longer and save a little money.
First of all, know your sheets' fiber content. Look at the care label or packaging to identify the fabric content of your sheets. The most likely fabric choices are cotton, Egyptian cotton, or a cotton-polyester blend, although sheets can also be made of bamboo, linen, or silk. Be sure to review the manufacturer's care recommendations before washing. Keep in mind that cotton-polyester blends will generally come out of the dryer less wrinkled than all-cotton sheets. Bamboo, linen, and silk sheets need special care.
Wash sheets separately from towels or other clothing. This gives the sheets more room to circulate in the water, which means they'll get cleaner. Washing sheets alone also prevents damage caused by zippers and other fasteners, and it reduces the amount of pilling that can happen over time.
Always pre-treat stains before laundering sheets. Avoid using bleach on bed linens as it can damage the fabric. If you need to brighten white sheets, add 1/4 cup of lemon juice to the wash water instead of bleach. Use a mild detergent for cotton and cotton-polyester-blend sheets. Special fabrics such as linen and silk may require a special detergent.
Use a gentle wash cycle and cool or lukewarm water. Simple tip – shaking the sheets out before placing them in the dryer can help reduce wrinkles. Use a low heat setting to minimize damage from high temperatures.
Wash your sheets weekly (more often for humid climates) to extend the life of your bed linens. During the time spent on the bed, dirt, dust, skin cells, body oils and fluids accumulate on sheets. The longer these particles accumulate on the sheets, the more stress is put on the sheet fibers. In addition, skin cells and body oils and fluids can attract microscopic mites. A good tip to reduce the washing frequency, is to bathe before bedtime so you'll take less dirt into bed with you. Keeping sweat, oils, and dirt out of the bed will keep the sheets clean longer.